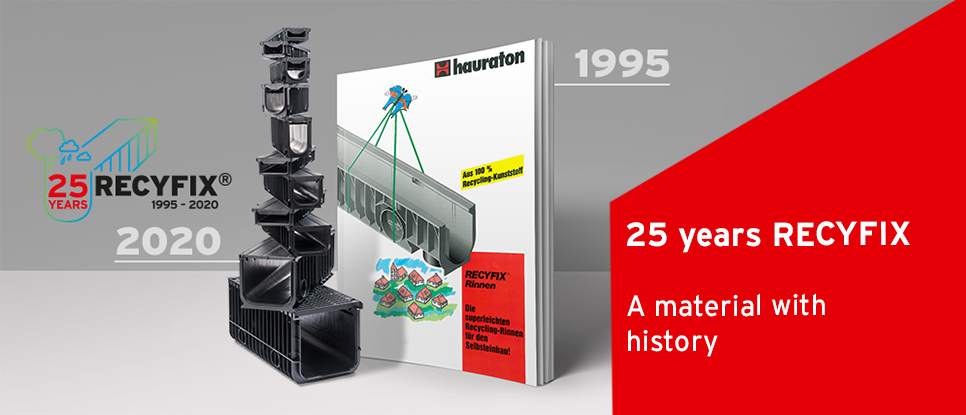 25 years RECYFIX - A material with history
---
How it all started...
When our RECYFIX channel made of 100 percent recycled composite was launched in 1995, it caused a furore in the industry. Up to then, the focus in drainage channels was mainly on classic systems, e.g. made of fibre-reinforced concrete.
So the exciting question was: Can recycled composite exist alongside concrete?
On the part of Hauraton, this meant the following: "We want to try out new things and come up with ideas!" Nowadays, drainage channels made of recycled composite are an established fixture.  
What initially appeared to be a new alternative to traditional concrete channels 25 years ago can now be found in a wide range of modern drainage systems. RECYFIX channels are especially used in heavily-trafficked areas and they can handle more demanding hydraulic requirements due to a large drainage cross-section.
---
Entrepreneurial courage leads a new material to success
The decision to develop recycled composite as a new material for drainage systems was a courageous step by HAURATON in the mid-1990s. The reason for the introduction: The demand of the construction industry for a high-performance material that is easier to process than concrete.
"We've now known for a long time that RECYFIX channels offer far more benefits: They can be easily adapted on site and remain aesthetically pleasing for a long time. The material does not corrode and is extremely resistant to breakage - combined with the low weight of the product, it makes transportation much easier. These features of recycled composite channels have opened up more potential for us in international markets. The range and scope of services have evolved to meet the needs of various international market requirements.
Today, environmental compatibility and resource conservation are important aspects worldwide. From the beginning, the aim for the RECYFIX material was to satisfy such requirements – and now the channels are certified by the "Blue Angel" (Blauer Engel) standard. Quite simply, it's been a success story."
---
The RECYFIX family - variety for all applications
Over the past 25 years, the RECYFIX product line has also undergone constant development. Currently we can look back on a very wide range of products for all applications from private to heavy duty applications.
RECYFIX PRO channels - Modern design & high resistance
The RECYFIX PRO drainage systems are ideal for corrosion-free linear drainage of private and public areas such as parks, driveways and parking lots.

Advantages of RECYFIX PRO:
Stable, almost unbreakable & environmentally friendly material (100% recycled composite body made of polypropylene)
Modern & unique in design due to hydraulically optimised FIBRETEC slotted grating
Resistant to environmental influences
RECYFIX PRO drains European Quarter in Frankfurt
RECYFIX PRO channels with award-winning FIBRETEC design gratings drain the European Quarter in Frankfurt. The 670,000 m² area contains offices, apartments and various shopping and leisure facilities.
RECYFIX NC - The recycled composite channel for Civils engineering and road construction
The RECYFIX NC drainage systems are highly stable and lightweight which make them the ideal product for heavy duty applications with higher traffic volumes, such as industrial estates, loading and unloading zones, car parks and public areas.
Advantages of RECYFIX NC:
Load capacity up to class E 600 according to EN 1433
Maximum security through 8-fold bolt fixing
Very lightweight, quick and cost saving installation
RECYFIX NC defies heavy traffic at builders' merchant SFS unimarket
The RECYFIX NC 200 channel ensures safe drainage of the builders' merchant SFS unimarket, the leading building materials expert in Switzerland. Even daily heavy-duty traffic is no problem for the robust channel!
RECYFIX MONOTEC - The monolithic drainage channel
As a drainage system with a high retention volume, the RECYFIX MONOTEC is ideal for highly frequented applications such as supermarkets, car parks and petrol stations. The channel elements as a unit of channel body and integrated grating are easy to install.
Advantages of RECYFIX MONOTEC:
Load capacity up to class D 400 according to EN 1433
Leak-proof & chemical-resistant
Secure against vandalism
The driving force: RECYFIX MONOTEC in the driving safety centre in Brno
The Polygon driving safety centre in Brno has a particularly curvy course. RECYFIX MONOTEC 100 channels were the best solution here as they could be easily cut to size on site and also installed accurately in the curves.
RECYFIX PLUS - Aesthetic even with high loads
The RECYFIX PLUS is the drainage channel for high optical demands. It is particularly suitable for public and commercial areas with higher traffic volumes up to load class C 250, such as shopping centres, public facilities and car parks.
Advantages of RECYFIX PLUS:
Optical appreciation through visible steel frame
Corrosion-protected frames made of galvanised or stainless steel
High resistance against frost, de-icing salt and UV rays

RECYFIX PLUS scores at the Frankfurt School of Finance
The internationally renowned Frankfurt School of Finance & Management has been given a new campus - and HAURATON contributed the drainage solution in the form of optically attractive RECYFIX PLUS channels.
RECYFIX STANDARD - Low weight & high quality optics
RECYFIX STANDARD channels are particularly suitable for domestic applications around the house, garden, yards, driveways and public areas such as parks. Gratings for the RECYFIX STANDARD are available up to load class C 250.
Advantages of RECYFIX STANDARD:
High stability and functionality
Low weight
Preformed vertical and horizontal outlets
Cheers for RECYFIX STANDARD in the Al-Maktoum Stadium in Dubai
The Al-Maktoum Stadium in Dubai hosts continental football tournaments such as the AFC Asian Cup. 441 metres of RECYFIX STANDARD 150 channels ensure reliable drainage of the pitch.
---
Videos about production, quality and easy processing of RECYFIX channels
How to process RECYFIX drainage channels
Watch this video to see how RECYFIX drainage channels can be processed to a perfect fit.
The individual video sequences can be found here.