New: RECYFIX PRO in nominal size 200 mm
The success story continues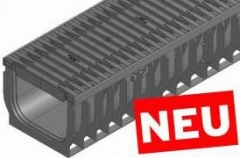 With the RECYFIX PRO Channel and the FIBRETEC Slotted grating HAURATON has revolutionized the market of plastic channels and brought the first complete plastic drainage system to the market. A permanetly corrosion-free system with a convincing and award-winning design was decisive that the product became immediately a bestseller. The success story now continues: from now on the RECYFIX PRO with FIBRETEC Slotted grating is also available in nominal size 200.

Available are channel types 010 (height 201 mm) and 115 (shallow channel with a height of 115 mm) as well as a trash box, end caps and a foul air trap as accessories. The system can be used for loading classes B 125 according DIN EN 1433 and is predestinated for landscaping applications.

The channels are shipped ready for installation with assembled and locked grating to the site, what optimizes the handling and saves costs.