Modern infiltration system for business park Vilija in Vilnius, Lithuania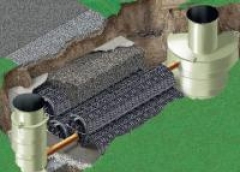 As the most southern of the three Baltic states, Lithuania has been a member of the European Union since 2004 and is becoming increasingly important as a transit country between Central, Northern and Eastern Europe. Lithuania has road and rail communications of great international importance and maintains a very busy Baltic Sea port.

To support the development of the country, increasing investments are made into the expansion of its infrastructure. One of these projects is 'Business Park Vilija' which is being developed in an easily accessible location in the capital Vilnius. From 2010, there will be two building complexes for the transfer of various goods transport streams within a 7-hectare precinct.

For the disposal of surface water, the designers specified a concrete retention basin with infiltration facility, for which an area of approx. 860 square metres was set aside. Marius Caikauskas, Managing Director of HAURATON Lithuania, was able to demonstrate the advantages of a modern PP infiltration tunnel, which convinced the responsible decision makers. Main arguments were easy and time-saving installation as well as the good volume-to-infiltration ratio of DRAINFIX TWIN.

Technical support was provided by the Technical Sales Support team from the company's head office in Rastatt – headed up by Dipl.-Ing. (BA) Rainer Schaible, a specialist in infiltration questions. Using the DRAINFIX EXPERT design programme, he found a solution for accommodating the required infiltration structure volume within the rather small space available. A particular challenge was the great depth at which the structure had to be installed – due to the position of the feeder pipes the structure's top edge had to be 2 metres below ground level. A swale has been provided above the structure which ensures an even distribution of the load from the ground and thus long-term stability.

Another difficulty that had to be overcome was to collect the precipitation water from more than 50,000 square metres of hard surface within the small infiltration area set aside in the design. To cope with this task local engineers designed in cooperation with HAURATON experts a complex drainage and manhole system with decreasing pipe diameters which distributes the water evenly to the different inlet points of the infiltration tunnels.

In the future, there will be more than 2,200 DRAINFIX TWIN 1 elements in the Vilija Business Park to ensure that storm water is expertly disposed of. This meant that it was not necessary to construct expensive canal systems as the water is conducted back into the ground water via infiltration at the same place where it precipitates.