FASERFIX®BIG SL for airport extension in Budapest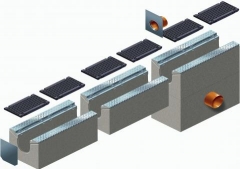 Ferihegy is Hungary's largest airport and lies to the east of the capital, Budapest. The airport handles more than eight million passengers a year. In the last few years alone, the rise in passenger numbers has grown by an average 18 per cent per annum, and the operators are forecasting an increase to ten million passengers by 2010. In the years to come, Ferihegy Airport is expected to further consolidate its position in Central and Eastern Europe in terms of growth, service quality and efficiency.

To this end, the airport's infrastructure is being fundamentally developed and modernised. In the first stage, the activities are concentrating on the extension of Terminal 2. What is remarkable here is that air traffic will be permanently maintained throughout the entire building phase. Which is why only suitable systems – which can be installed in a simple and expeditious way and are capable of withstanding the extreme loads – have been chosen for the drainage of the aviation surfaces.


FASERFIX BIG SL
Safely drained - quickly installed
For maximum loads in heavy traffic

It was not long before the team of HAURATON Hungary – particularly managing director Istvan Kajtar – were able to convince the building planners of the advantages of FASERFIX BIG SL. The fibre-reinforced concrete channels are fitted with wear-resistant benching protection, made of solid galvanised steel, and are particularly suited to frequent and extreme stress. The installation does not require expensive and elaborate measures, such as extra in-situ concrete channel benching, which needs to be formed and reinforced. Instead, the channels are fitted simply on a concrete foundation. Once the base and the surface coverings have been fixed directly to the channel, the drainage systems can be put to use immediately. This allows construction costs and time to be significantly reduced – a superb argument where the airport extension is concerned.

The hydraulic calculation, which was carried out at no extra cost in line with the planners' specifications, necessitated the quantities of 210 m FASERFIX BIG SL 150 and 1.745 m FASERFIX BIG SL 200. The installation was carried out with the aid of customised installation drawings, which were also provided free to the builder.

In the meantime the channel installtion is complete. The products can then prove their excellent suitability in the everyday load situation.