Marketing Service for dealers specialising in building materials
HAURATON supports your sales with effective advertising materials and pre-sales campaigns

Planning documents
Comprehensive information is available for specialist planners in various field-related catalogues to support the planning process. The catalogues are split into the main areas of application TIEFBAU, GALABAU, AQAUBAU and SPORTBAU. Detailed installation tips and numerous installation drawings for Hauraton products are collected together in the INSTALLATION INSTRUCTIONS catalogue. The planning documents are neatly divided up in the planning file.

Brochures / brochure stands
To support your sales we offer brochures and product flyers. Give your customers important information about innovations and on the extensive range of Hauraton products. We can happily provide brochure stands for your sales counter.
Create your individual catalogue
You advise your customer and want to provide him some documents with particular HAURATON products or send these per E-Mail? Or do you need some pages with current information from the HAURATON range short-term?

Here you can prepare a catalogue according your requirements. Choose only the required product groups, click "Send inquiry" and your individual catalogue will be created in a pdf-file in the blink of an eye.

HAURATON INFORM Newsletter
In Hauraton INFORM you will find many interesting contributions from the building sector and about our products. Keep yourself up to date with this newsletter or on the Internet.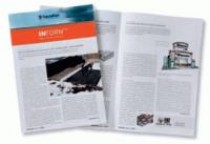 Mailing campaigns
We are happy to support distributors who have warehouses with mailing letters to their customers. We see distributors as our partners. In the letters we refer to products which are held on stock and clearly emphasise the advantages and benefits of Hauraton products.

Factory cisits / informations events
We offer factory visits specifically for sales people from dealers specialising in building materials. At the centre of the events at Rastatt is information on the latest technology in the field of surface drainage and seepage as well as the current DIN-EN standards.